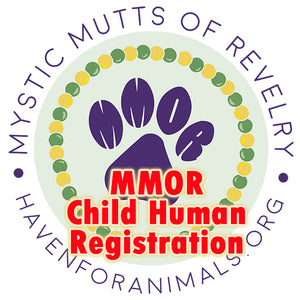 Child Human Registration Includes:
 one (1) Child Human parade registration age 2-12 yrs old.

Children under the age of 2 years are FREE. 

All mutts walking in the MMOR parade are required to be registered by purchasing one (1) Human Adult ticket per mutt and must be escorted by a human minimum age of 12 years or older.

 

(i.e.

 one adult human with three mutts is required to purchase three (3) Human Adult tickets and each mutt must be escorted by a human not younger than 12 years old. 

Parade rolls at 3 p.m.
This is a walking parade only! No vehicles, bikes, electric bike, golf carts, etc. Walking parade only. 

Check your email for pre-registration instructions. 

All sales are final and no refunds will be issued. 
All proceeds benefit The Haven No-Kill Animal Shelter, a local 501(c) 3 non-profit animal shelter working with local and national agencies to end pet homelessness.